Do you like what you've seen so far? Are we doing a good job? Click on this link to donate. Thank you for the love you've shown for Children and the Elderly.
Some of you do not wish to be contacted by us. Therefore, we herein provide you certain links which may be helpful to you.
Here are some national [US] links.
Find Missing Children - Child Protection Education of America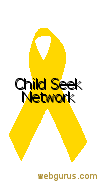 Coldcase [Missing Persons Database] www.mpccn.com
National Center for Missing and Exploited Children NCMEC
Federal Bureau of Investigation
Find Missing People Databases and Links
Fugitive Hunter Database DO NOT APPROACH DIRECTLY!
Cult Information Service, Inc.
ID-WANTED [Missing Persons Database]
NMCO - The Nation's Missing Children Organization and Center for Missing Adults Database
Here are some International Links.
CANADIAN SECURITY INTELLIGENCE SERVICE
Cult Information Centre [Australia]
Resource Center on cultic thinking [Canada]
Youth Fire - Youth Exposing the Occult.